Lacquerware that helps for making more enriched livelihood
Watanabe Arts and Crafts (Watanabe Bijutsu Kogei) is a company founded by a lacquer craftsman, Kyushichi Watanabe about 100 years ago in 1921 in Nagahama City, Shiga Prefecture.
Since Kyushichi started manufacturing Buddhist altars in this area where Buddhist beliefs were flourishing, we have continued to support "More enriched livelihood" through lacquer from age to age.
In recent years, our work is not limited to only manufacturing Buddhist altars, but also restoring cultural properties certified as UNESCO Intangible Cultural Heritage, planning, manufacturing and sales of handicrafts such as lacquerwares to add color to the daily dining tables.
Among them, the lacquerware called "Jo-Ki Wan", which was revived by the third generation Yoshihisa Watanabe and has been handed down in this area since the Muromachi period, offers lifelong quality even though it is a wooden bowl. "Jo-Ki" means " May you always be filled with joy," and is a perfect gift for celebrations.
We will continue to take on the challenge and do our best of passing down the traditional Japanese lacquer culture to the future generations.
About Lacquer
Lacquer is a protective coating material made by refining the sap of lacquer tree which grows mainly in East Asia such as Japan, China, and the Korean Peninsula, and is said to have been introduced from China to Japan 9000 years ago.
Characteristic of Lacquer is fast dry as the humidity is higher which is suitable for the climate of Japan, and has been widely used from daily commodities to works of art.
Lacquerware with multiple layers of lacquer has strong durability against heat, acidity and alkalinity, becomes a gem giving off a distinctive beautiful luster.
In the late 1500s, numerous furnishings were introduced and attracted to the upper classes of Western Europe by Christian evangelists.
History of Lacquer and Nagahama City, Shiga Prefecture
Nagahama City, located in the northern part of Shiga Prefecture, is blessed with a rich environment of nature, facing Lake Biwa which is the largest lake in Japan, surrounded by mountains behind it. In the past, many woodworkers who manipulated a turning lathe lived in the mountains, and lacquer was also collected, therefore lacquerwares were being produced in large quantities. During the Warring states period(Sengoku Period), a castle town was formed on the shores of Lake Biwa, where water transportation was thriving, and meanwhile the culture of the townspeople flourished, the technique of lacquerware was eventually inherited to the float of the Nagahama Hikiyama Festival (one of the Japan's three major Hikiyama- matsuri festival) and Nagahama Buddhist altars and had achieved the distinctive development.
Our Four Challenges
1.Jo-Ki Wan
Ordinarily scene of everyday meals with freshly cooked hot rice and hot miso soup (*) are turned into the blissful time. Lacquerware made from the blessing of nature is supple, gentle and fits well into your hand. "May you always be filled with joy." I hope that the lacquerware "Jo-Ki Wan" contains a wish for an opportunity to enrich your everyday life.
(*) It can be used in many ways such as with salad, soup and sweets etc.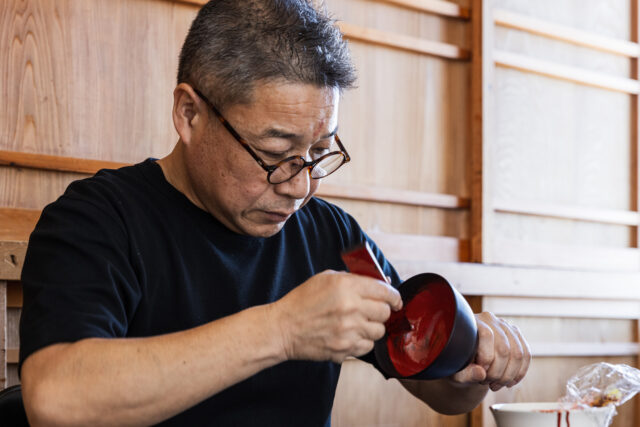 2.Manufacturing, Sales and Maintenances of Nagahama Buddhist Altars
The Kohoku region in Nagahama City has long been a region of great faith, as it is said to be the Kingdom of Shinshu (Buddhism). The Nagahama Buddhist altar (Hama Buddhist altar), which has been made since the middle of the Edo period, is large and is said that it's the finest Buddhist altars in Japan. Good quality of wood is used, apply lacquer undercoat on the wood joined by tenon fixing method, then apply and finish with lacquer.
Nowadays, the number of chemical paints applied has increased overwhelmingly, even under such circumstances, we are particular about high quality of natural lacquer and work responsible to be recognized as traditional handicrafts.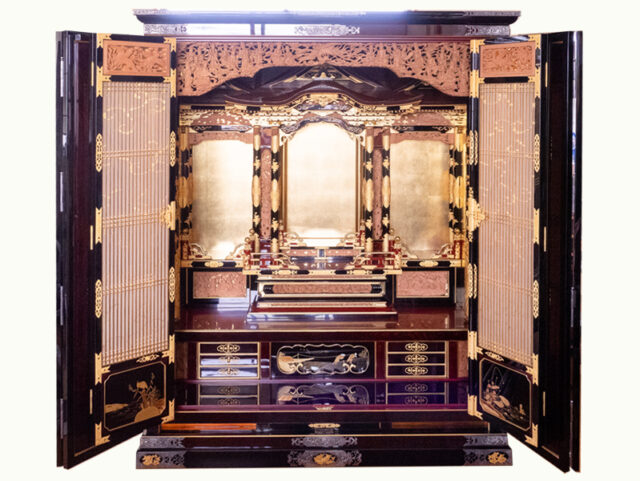 3.Restoration of Cultural Properties
We have been involved in the restoration of lacquering products for the Nagahama Hikiyama Festival for decades with high skills which have been cultivated through the manufacturing and restoration of Nagahama Buddhist altars. In recent years, our achievements have been recognized, and we are working on the restoration of floats designated as regional cultural properties in each region, such as the floats of the Kuwana Ishidori Festival and the Inuyama Festival, which have been certified as UNESCO intangible cultural heritage.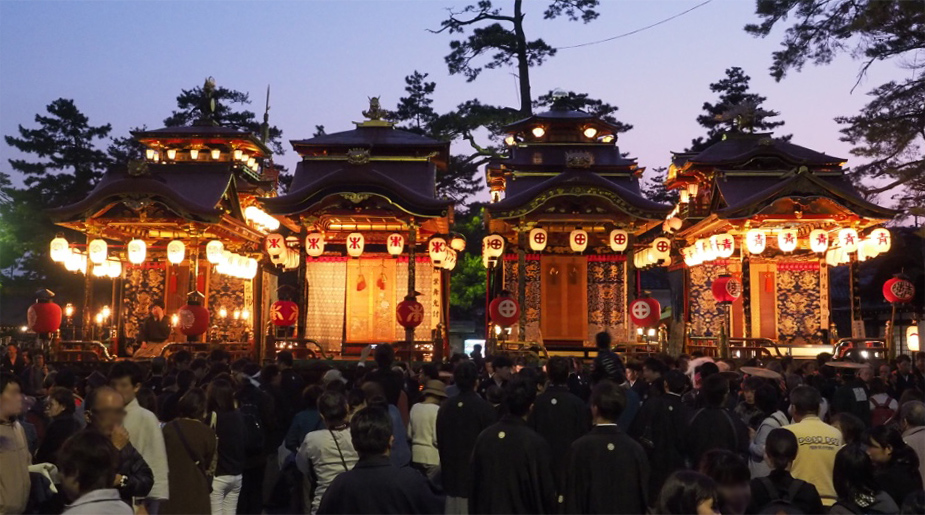 4.Kintsugi
Kintsugi is a traditional restoration technique in which cracked or chipped pottery is glued with lacquer and then gilded with gold powder. The vessel that has been revived in this way become an attractive and special vessel as a one-of-a-kind in the world, and will add colors to your life and more contentment. Watanabe Art Crafts also holds a Kintsugi workshop "Nagahama Kintsugi Club" to repair your precious vessels with your own hands.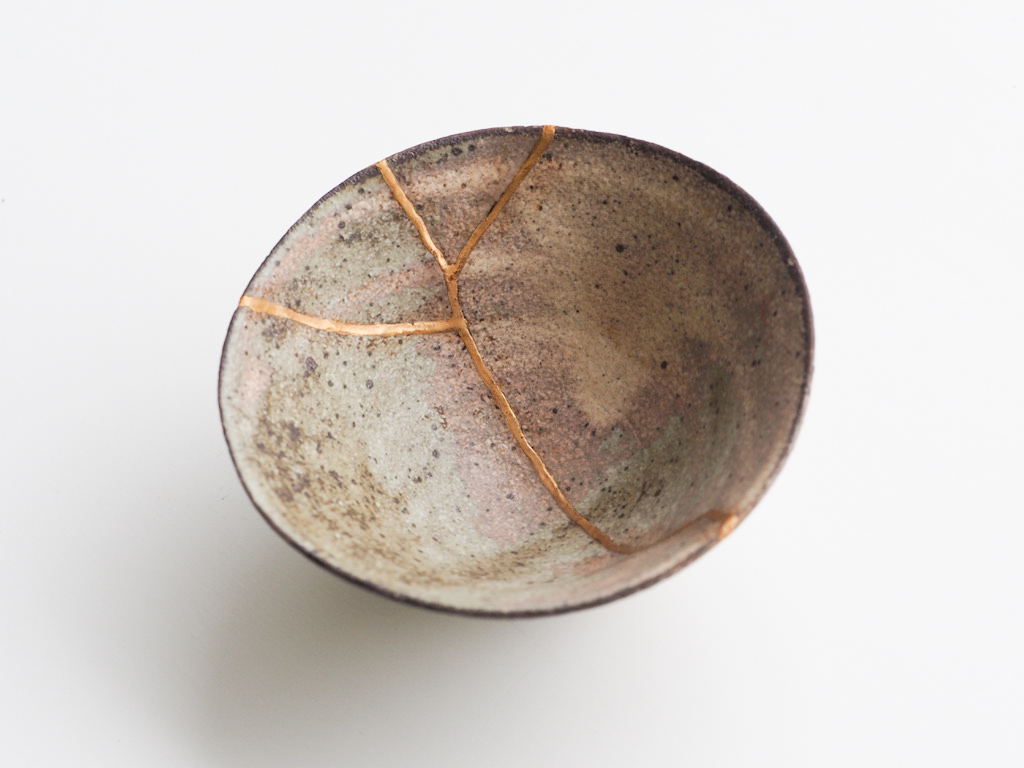 Our History
Taisho 10 (1921)
Kyushichi Watanabe is the founder of Watanabe Buddhis Alter Shop.
Engaged in the manufacture and sale of Buddhist altars and altar accessories.
XX years (XX years)
Nobuo Watanabe, the second generation expanded to be involved in the restoration of Nagahama Hikiyama.
Heisei 22 (2010)
Yoshihisa Watanabe, the third generation, established Watanabe Art Craft Co., Ltd. Engaged and involved in the manufacture and sale of Buddhist altar fittings, the restoration of cultural properties such as floats, and the planning, manufacture and sale of crafts.
@nagahama.jo_kiwan | @nagahamakintsugi